---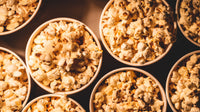 Aq
Made with 100% real ingredients and freshly stove popped daily, these popcorn are not only tasty but are highly addictive . You can't stop with just one handful.
Our Irish Cream popcorn are buttery and crispy. A delectable vanilla flavor with a dash  of coffee. 

Mini size 20g each
Small size 40g each

Medium Size 120g each 
Party Size 500g each 
*Non- alcoholic, no preservatives and no artificial flavour.